Perth's housing market appears to be on the rebound, but home staging is a must to impress buyers. When trying to sell your home, costs can add up quickly. Maximising the value and appeal of the home is how to recoup some of those costs, and investing in home staging is an easy way to guarantee a large return on investment.
Home staging puts homes that are for sale above the competition. It brings them back to showroom quality and shows the home in its best light. Buyers don't want to see a lived-in home. They do want to see how a home can function, and home staging perfects the balancing act of showing off your home without it being too crowded or messy.
There are definite dos and don'ts when staging a home. To make sure that you're on the right path for an incredible home showing, here are the things to add and the things to avoid.
1. Don't Forget about Your Curb Appeal
Staging the interior of a home will be wasted if the outside doesn't look nice, too. The outside of the house is the very first things potential buyers will see, and while it's not necessary to go all out with brand new landscaping, a clean and pretty exterior will do wonders when staging a home. It will raise buyers' expectations and interest as to what the interior is like if the outside shows it has been cared for.
2. Clean and Keep on Cleaning
You want your house to be squeaky clean for buyers when they are looking inside. No one likes having a messy house, and no one will want to look at a messy house to buy. When hiring a company like Perth's 740 Designs to stage your home, be sure that everything is tidied to truly pull the look together, and make it easier for the designers to best show off your home. Remember to dust and remove any lingering odours too, as these are often forgotten but have a big impact on a buyer's first impression of the home.
3. Declutter
Along with the cleaning comes decluttering. Remove unnecessary stuff from view. Less is often more when staging a home. You'll notice that many staged homes have a streamlined feel without a lot of clutter.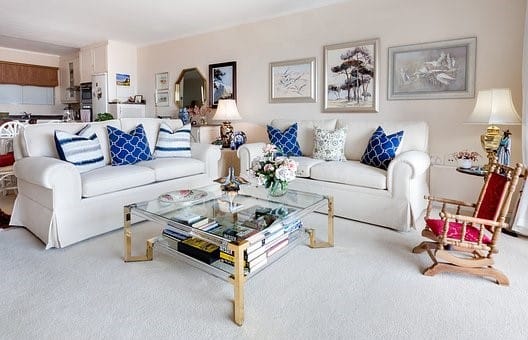 4. Neutralize
With the items that you choose to keep out, make sure they aren't personal. This can be difficult because this is your home, but the goal is to make it so that a buyer can envision themselves living there. In addition to keeping neutral things around, be sure to create a neutral theme throughout the house. Remember that just because you may favour a bright orange accent wall, a potential buyer may not. Remove any effects that may be offensive.
5. Downsize
Again, going off of less is more, try to replace or remove large furniture pieces. When staging a home, you don't want overbearing pieces that could be viewed as cumbersome to a buyer. Try to bring in smaller items that complement each other. If the furniture you have isn't right for the space or could be a turn-off to prospective buyers, you can also search for package and collection options through a furniture hire company.
6. Don't Take It Personally
When staging a home, you have to remember that this is no longer your living space, but a product that you're selling. Everyone will have several opinions on your home, and some may not be favourable to you.
7. Don't Start on Major Renovations
In selling a home, it doesn't make sense to pour a ton of money into it at the last second. When staging, keep in mind that everyone's tastes are different, and a major remodel that you adore may detract from the selling value for another buyer. Keep to the essentials such as painting, updating fixtures that are outdated, and replacing old flooring. Functional repairs are great to add to the appeal of staging, but overhauls should be left to the next homeowner.
8. Don't Run out to Buy All New Pieces
This follows along the lines of the major renovations tip above. The truth is that many buyers will have their furniture to move in, and it isn't necessary to replace all your pieces. Consider rearranging what you have and removing some pieces if necessary. When in doubt, ask help from a designer, or if you feel that your pieces are outdated, you could go the route of furniture rental in Perth.
When done correctly, home staging is a wonderful way to add to the wow factor of a home that's being sold. It is far more often that a staged home is more favourable to buyers because it is clean and showcases how the home could be used without adding in the clutter of everyday life. Be sure to follow basic dos and don'ts when staging your home for a successful showing.