Home staging is a wonderful way to add to the appeal of a home. It helps to create the picturesque space that buyers want when shopping for their next home. This is imperative for appealing to families who are interested in buying a home. It's easy to make a home look liveable for one or two people, but when more are involved, the staging can become more difficult.
Add to this that many homes for sale today are utilizing a modern trend in staging to best showcase the home. There are numerous techniques and concepts used by home staging professionals, but most would probably define the modern style as one that utilizes function, clean shapes and lines, and natural elements in decoration. Many modern styles are built so that everything in the home has a function. This is an element that adds to the desire for an organization that many families have. Below are five tips for creating a modern feel when staging a family home.
1. Use Architectural Elements When Decorating
Strip away much of the fluff common in older staging styles. Put in or update shelves that are useful for storing and organizing personal effects, and wood accents via furniture or floors. Even bare concrete walls are an element in one of its purest forms. Natural aspects provide a streamlined look inside the home because the pieces designed with them are a soothing counterpart to the hectic life of families who need a relaxing place to come home to. Staging is all about creating the design that best lets a buyer envision themselves living there.
2. Think Simple
Staging for any style often uses simple concepts that are functional and open. Along with being basics to modern styles, these are vital when staging a home for a family. Show how best a room can function for multiple purposes by keeping the design simple and the flow between rooms open. Keeping colours and furniture choices simple adds to the appeal for a buyer too. When keeping it simple, it isn't necessary to keep colours in all neutrals. While this can be soothing, colour can be used to designate areas in a more open concept style of staging.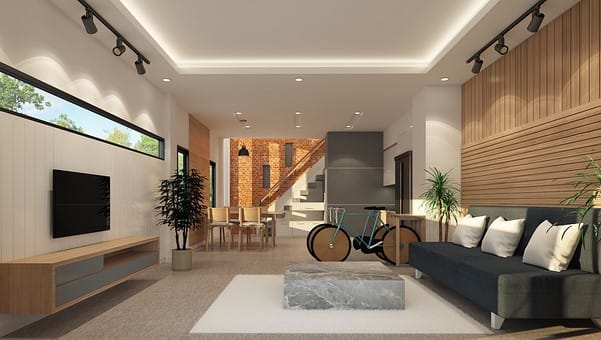 3. Create Focus
While natural elements are perfect in modern styles, a focus piece in the form of an accent wall or making use of a pop of colour in a functional piece of furniture makes a room feel modern while adding in some fun. Families will look for pieces of furniture that serve many purposes and rooms that are multipurpose as well. Well-rounded designers like our consultants at 740 Designs have access to a variety of pieces, styles, and collections that are the perfect addition to modern stages.
4. Don't Forget to Add Space and Light
Modern styles make use of the rule that less is more. Especially important in rooms that can get cluttered is maintaining either a natural light source, or using recessed lighting to keep light available without cluttering up the area with fixtures. Glass is also a fantastic element to use when creating the feeling of space because of how streamlined but functional it is. Glass is also perfect for reflecting light around the room, and a well-lit room is always more functional.
5. Usability
Family homes come with a lot of stuff, and families need ways to store their stuff. Keep this in mind when staging a home with a modern feel. Keep to the clean lines that modern styles aim for by sourcing out creative pieces of furniture. Still keep away from the bulky and overbearing pieces that most staging avoids, but keep in mind that new pieces are being developed all the time for the demand of the modern style. It's an easy style that appeals to many people but can be hard to nail down when incorporating a family theme as well.
The modern style is often simple and unadorned, favouring clean lines to promote a sense of purpose and an uncluttered space. It's long been accepted that too much stuff in a home can feel overwhelming, but many family homes require a significant amount of stuff to just function. When staging a modern family home, it is easiest to look first at the function of everything. Seeking out a professional opinion from a designer or even a furniture hire company that specializes in collections or packages suited to the style can be helpful, too, so that your style is maintained throughout the house. "Form follows function" is a key belief to staging a modern style. Look at the functionality of each piece you choose, and then how it might all fit together for the best staging for a family home.